This trip to Big Bend National Park in mid-December yielded a lot of nice photo opportunities. The lighting conditions were different and more variable than during springtime trips because of the lower angle of the sun and its southerly azimuth. The Milky Way isn't visible in December, so dramatic nighttime shots were limited, but I tried a few anyway.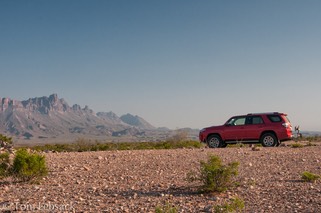 This was the first time my new Toyota 4Runner Trail made the trip to Big Bend. It easily handled the River Road, Black Gap Road and other back-country roads in the park. But, it got a little scratched up, too.
The first morning I drove to Desert Mountain Overlook for a sunrise shot. It had been very foggy all along Ross Maxwell Drive until dropping down toward Castolon. The fog lifted just before dawn and I was able to get the image below. Cerro Castellan is in the center right, with the Chisos Mountains about 14 miles away in the distant background.
One objective of the trip was to see if there were any photo opportunities at Sierra de Chino, a prominent volcanic dike in the far southwest portion of the park. The next morning I went to find out. According to the iPhone app (The Photographer's Ephemeris),  the dike was supposed to light up at sunrise, and it did. 
Volcanic rocks are strewn about everywhere atop white tuff and gravel. The clumps of yellow flowers are Desert Marigold.
This spot is on the River Road, about an hour from the west end near Castellon. The road is not too bad, but it does require a vehicle with high clearance.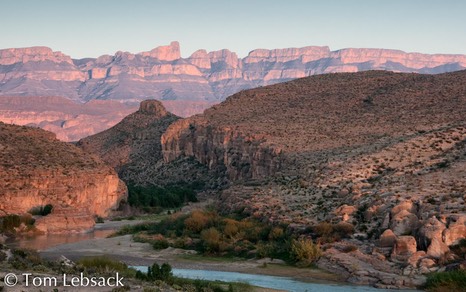 After a day of driving the backroads I headed to Hot Springs to take a sunset shot of the Sierra del Carmen, as recommended by fellow AARPer Jim. It turned out pretty nice, but I don't know if I was at the spot he described. 
On a side note, the parking lot at Hot Springs was full, and so was the spring. It looked like the Park Service had made some rudimentary improvements to keep the Rio Grande from overflowing into the small pool. It must have worked because I didn't see anyone with knee-high mud on their legs.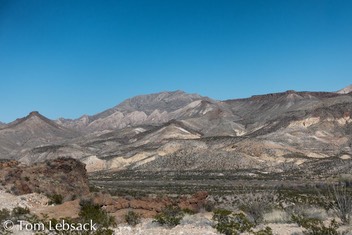 The next two days were spent biking in Big Bend Ranch State Park (see previous post for details). Without mountains like the Chisos, the scenery inside the park is different and less spectacular than the national park's, yet it has a certain appeal. The shot on the right was taken on the west side of The Solitario, a huge collapsed caldera behind the ridge. 
If you'd like to see more scenery shot from this trip to Big Bend, click here. 
My next post shows some of the wildflowers I found.