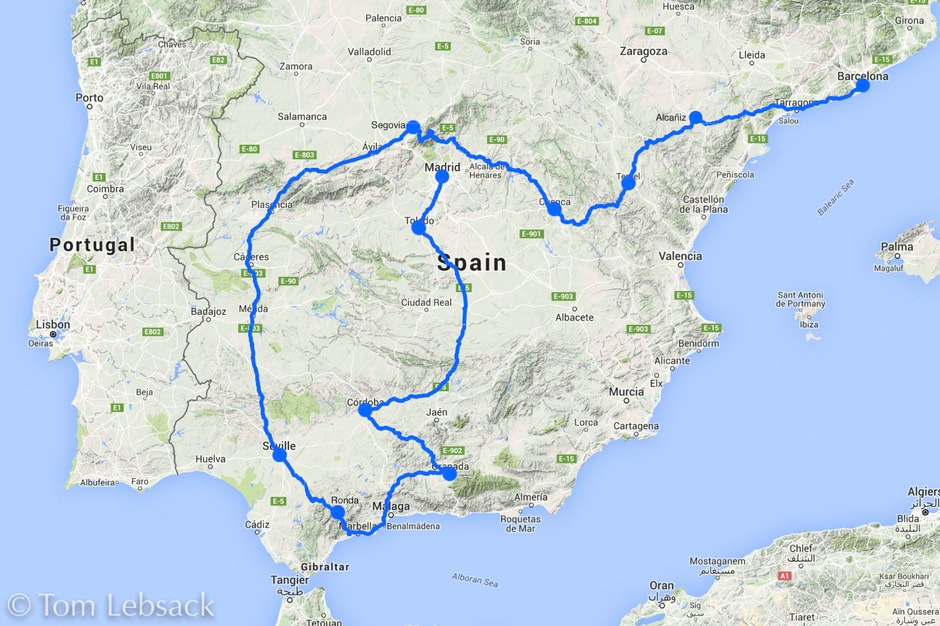 Late in May, 2015, we embarked for a tour of Spain, a trip that had been much-thought-about for several years but one that we had put off. Alliance Schlumberger scheduled their reunion in Barcelona for mid-June, so we decided that this was the time to make the trip. 
Our three-week trip started May 25 with a flight from Austin to Madrid via Washington, D.C., returning from Barcelona to Austin via Newark on June 15, after visiting 11 cities. The map shows our route.
Driving around Spain is easy and relatively inexpensive. The train system is not as well developed as in other European countries and to see the places we wanted, renting a car was our best transportation option. 
Spain has such a rich cultural heritage and there is so much to see: the wonderful big-city museums, palaces and parks, cathedrals of all sizes, former mosques, and beautiful scenery. It is also a country whose populations have suffered through many difficulties from Roman times on, with ethnic expulsions, the Inquisition, Napoleonic and Spanish Civil wars. 
That said, it is an easy place to visit with excellent food and fine, reasonably-priced hotel accommodations.  
Click here to see our itinerary and here to contact us regarding the photos.
Tom & Linda